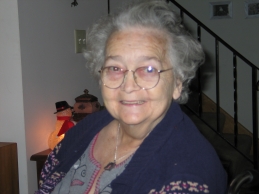 Donna Delores Gorder (nee Davidson), 78, died June 18 at Mayfair
Village Retirement Nursing Center in Columbus, OH.

Born in Powhatan Point, OH, and graduated from Ohio Valley General Hospital School of Nursing in 1948. Practiced as a nurse anesthetist at St. Luke's Hospital in Duluth, MN, and at Bellaire City Hospital (now Belmont Community Hospital) in Bellaire, OH, where she later practiced IV therapy.
A woman of sharp wit and intellect, Donna sang and read avidly. Preceded in death by brothers Donald Davidson and Brent Davidson; and former husband Warren E. Gorder. Survived by sons William (Pamela) Gorder of Columbus, OH, and James (Connnie) Gorder of Wheeling, WV, and much beloved granddaughter Sarah Gorder.
No calling hours, cremation private. An informal gathering for family and friends will be held in Wheeling in July. In lieu of flowers, friends may contribute to Odyssey HealthCare Foundation, 6432 East Main St., Ste. 102, Reynoldsburg, OH 43068, or the American Macular Degeneration Foundation, PO Box 515, Northampton, MA 01061-0515.
Visit www.schoedinger.com to sign the guestbook and leave an online remembrance of Donna. Arrangements by SCHOEDINGER-NORRIS CHAPEL 614.875.6333